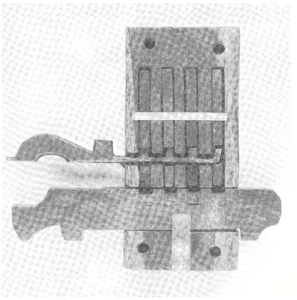 The wafer tumbler design appears in 1868 with the invention of Philo S. Felter which is very inspired by wooden lock made in North Africa, Scotland or by Vikings in the 8th century AD. (N° 76,066)
---
Les premiers systèmes à paillettes apparaissent en 1868 avec l'invention de Philo S. Felter qui s'inspira beaucoup des anciennes serrures de bois fabriquées en Afrique du Nord, en Écosse ou encore par les Vikings au 8ème siècle après J.C-. (N° 76,066)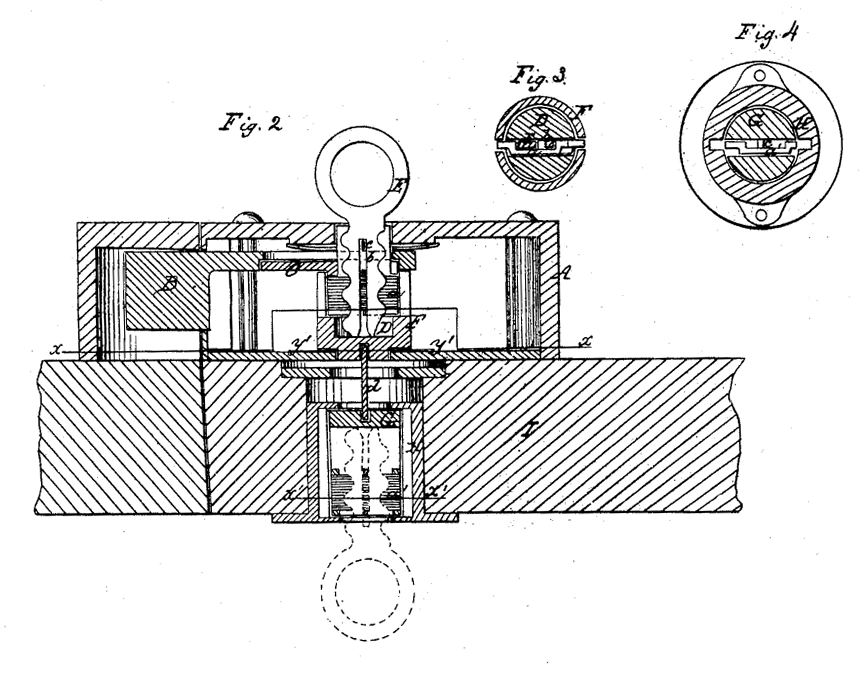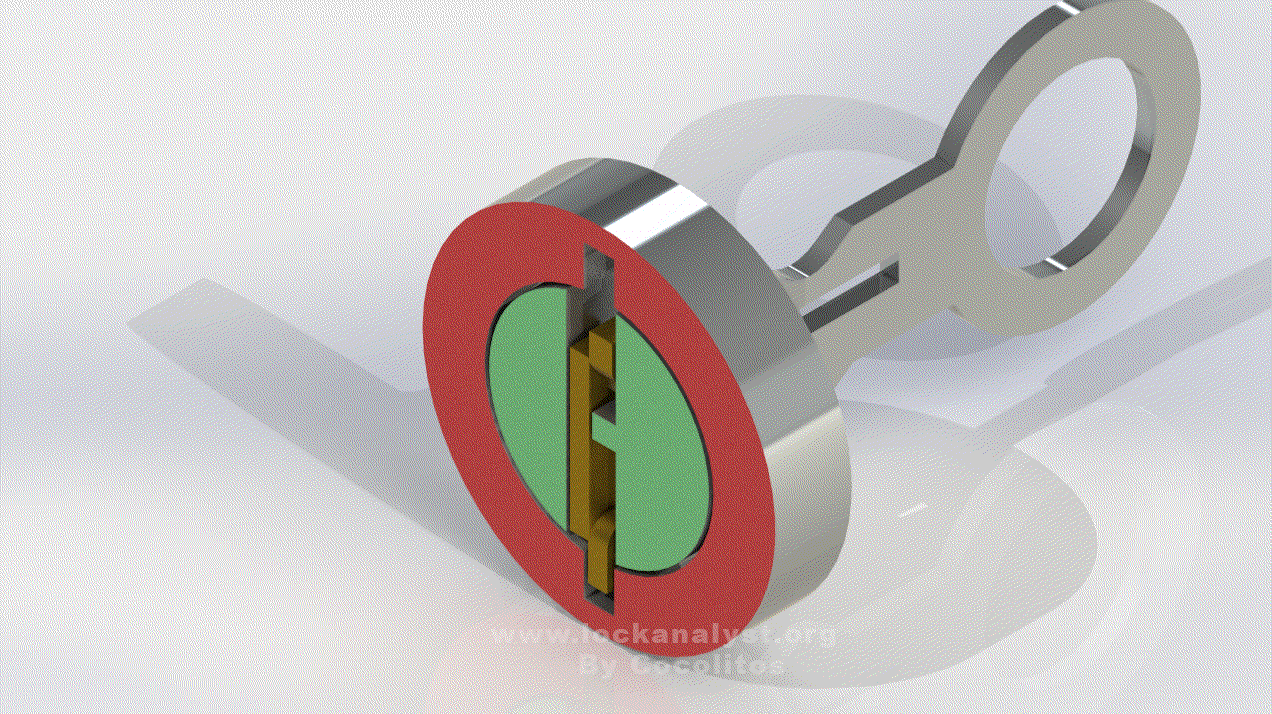 Felter patents a lock used a cylindrical plug with a longitudinal groove. Wafers are made in copper flat sheet on which, in one side, an opening is made for the inserting of the key and, in the other side, two notches to block the plug. When no key is inserted, all wafers fall by gravity into a longitudinal groove made in the shell bore corresponding to the groove made in the plug. Wafers protude out of the plug and block its rotation.
The design of the key made of sheet metal, recalls that of Linus Yale Jr patented 3 years early in 1865. A double-bitted key can operate tumblers with a double-ramp bitting allowing to slide all wafers until the key stops. When the correct key is inserted, all wafers fit the plug which is free to rotate. On the other hand, if a incorrect key is inserted, wafers protude and the plug is also blocked.
---
Felter dépose un brevet pour une serrure utilisant un rotor cylindrique avec une rainure longitudinale débouchante. Les paillettes sont fabriquées dans de fines plaquettes de cuivre qui, d'un côté, possèdent une ouverture pour le passage de la clef et, de l'autre côté, deux encoches pour bloquer le rotor. Quand aucune clef n'est insérée, toutes les paillettes tombent par gravité dans une rainure longitudinale pratiquée dans l'alésage du stator. Les paillettes dépassent du rotor et bloquent sa rotation.
Le concept de la clef découpée en fine tôle d'acier rappelle celui de Linus Yale Jr breveté 3 ans plus tôt en 1865. La clef à double taillage permet de faire coulisser les paillettes jusqu'à ce qu'elle soit inséré jusqu'en butée. Quand la bonne clef est insérée, toutes les paillettes épousent la circonférence du rotor qui est ainsi libre de tourner. Par contre, si la clef n'est pas la bonne, les paillettes sortent de leur logement et le rotor est à nouveau bloqué.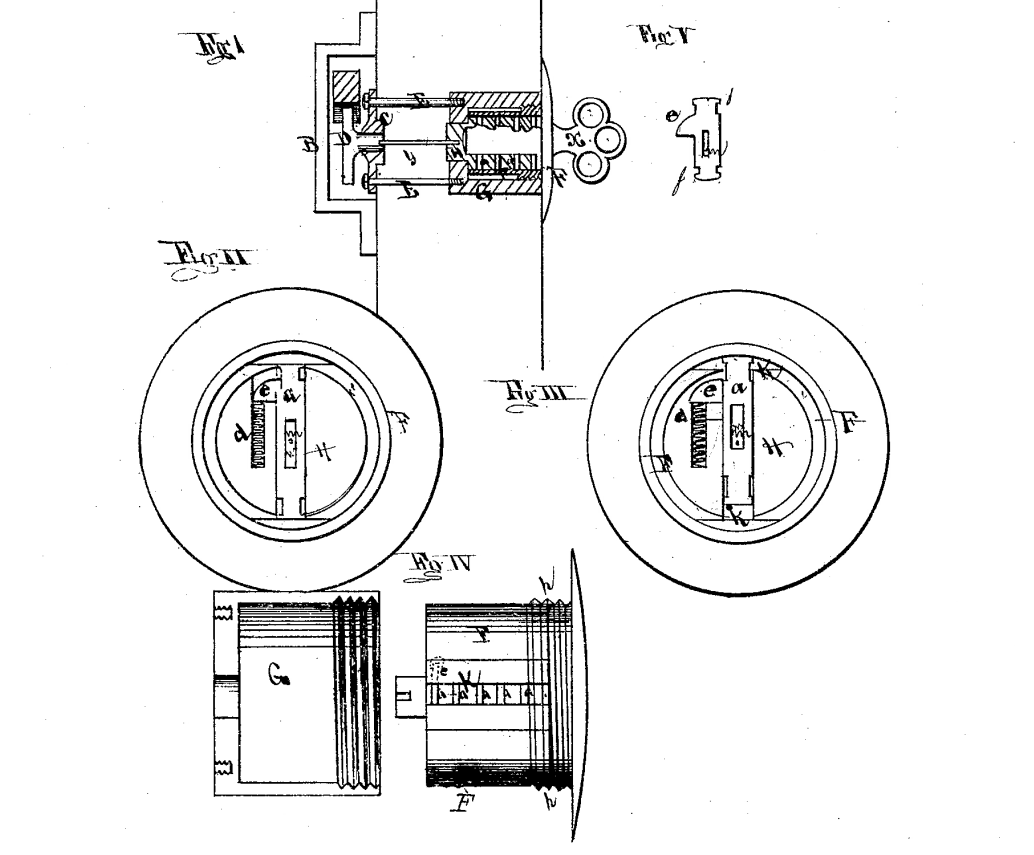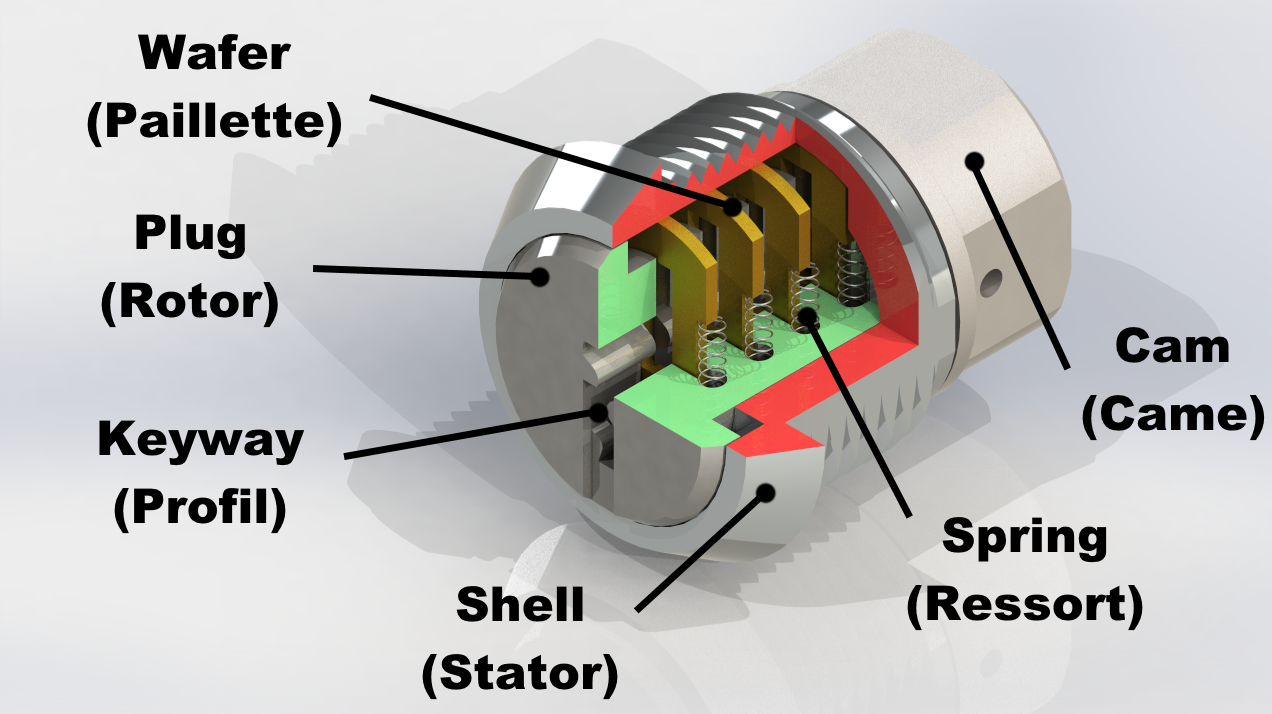 In 1870, H. S. Shepardson improve the felter's wafer design in his patent (N° 99,013). The wafer still made in sheet metal by stamping process but instead of having a side opening for the insertion of the key, a central rectangular cutout will have the same function. Each wafers are spring-loaded with a coil spring which eject the tumbler at the bottom of shell's groove. The key, unlike of Felter'design, consist of a single-bitted key like a Yale key. The wafer is still used in this economic form today.
---
En 1870, H. S. Shepardson améliore le concept de Felter dans son brevet (N° 99,013). La paillette reste fabriquée dans de la tôle par poinconnage mais au lieu d'avoir une découpe latérale pour le passage de la clef, c'est une poche rectangulaire qui aura la même fonction. Chaque paillette a son ressort de compression qui l'éjecte au fond la rainure pratiquée dans le stator. la clef, contrairement à celle de Felter, est constitué d'une seul découpe similaire à celle de Yale. De nos jour, la paillette demeure utilisée sous cette forme économique.